Remember when we used to profusely indulge in searching for that perfect perfume or body spray that helps in tackling sweat and unwanted body odor? I have seen my father never really being happy and always looking for a solution for this as he had to spend long hours travelling for his work.
This is when I came across the perfect solution! As men's grooming has taken precedence these days, and deodorant sticks are quite a rage, I thought of researching a bit more on its miraculous advantages and that is when Juicy Chemistry happened! Read on as I share my previous experience with this brand and why I was eager to go for it again for their range of Men's deodorant sticks. 
Deodorants for Men from Organic Brands:
It is while doing my research that I came across some of the top organic brands that have come up with some interesting compositions for their natural deodorant sticks. I was very particular about going for an organic brand as they are a lot less harsh on the skin too. That is when I thought of one of my favorites which is Juicy Chemistry. This is one of the leading beauty brands in India right now and its products have been highly recommended.
Woovly made it so much easier for me to choose because of the way they described the benefits of each of the ingredients used in the making of the deodorant sticks! I was very eager to avail the great offers that Woovly has and experiment with these products.

Here is a list of the Juicy Chemistry range that you should check out:
1. Grapefruit & Patchouli Deodorant Stick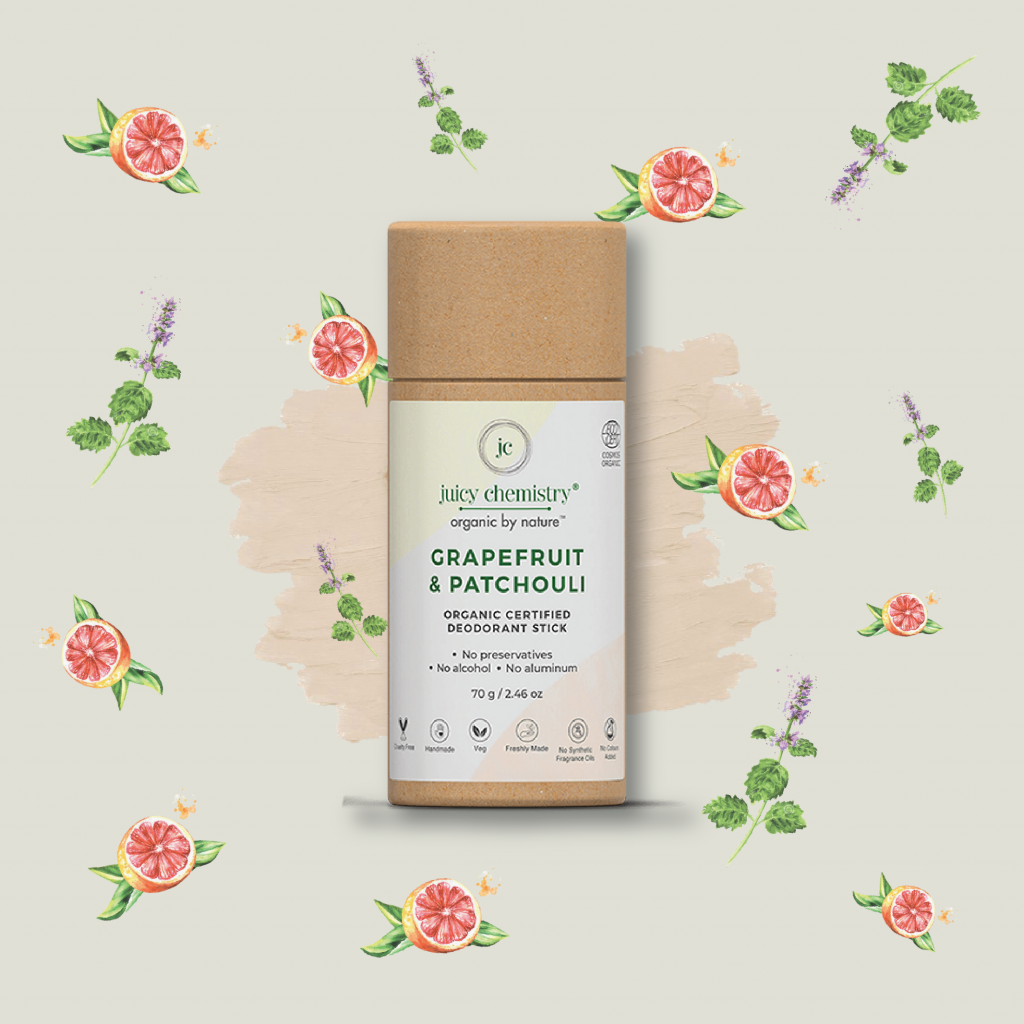 Grapefruit & Patchouli Deodorant
I was thrilled to know that they have the three Juicy Chemistry deodorants for men on their website. That is when the first one which is the Grapefruit & Patchouli Deodorant Stick popped up on my screen. As mentioned earlier, this deodorant stick served the basic purpose of neutralizing the Body odor. As the name suggests, Grapefruit comes with a fruity aroma that masks the odor, whereas Patchouli promotes a smoother texture of the skin. Enriched with various essential oil, natural clay components such as Kaolinite, and rich antioxidants – this deodorant would additionally contribute to nourishing and hydrating the skin to make it always look replenished and supple with diligent use.
2. Blood Orange & Geranium Deodorant Stick
The names of the products themselves are extremely impressive and something new! Wanting to know more about its composition and the diverse benefits of each ingredient, I checked out Juicy Chemistry's Blood Orange and Geranium Deodorant Stick. Just like the previous product, this one too helped in keeping the underarms nourished and fresh. The presence of hydrating oils, clay compositions promoted complete moisturization and unclogging of pores. In this blend, Blood orange has that fruity and citrus-like smell that helps in masking unwanted odor and geranium promotes smoother skin. Other common components such as body butter and hydrating oils maintain the overall skins' health.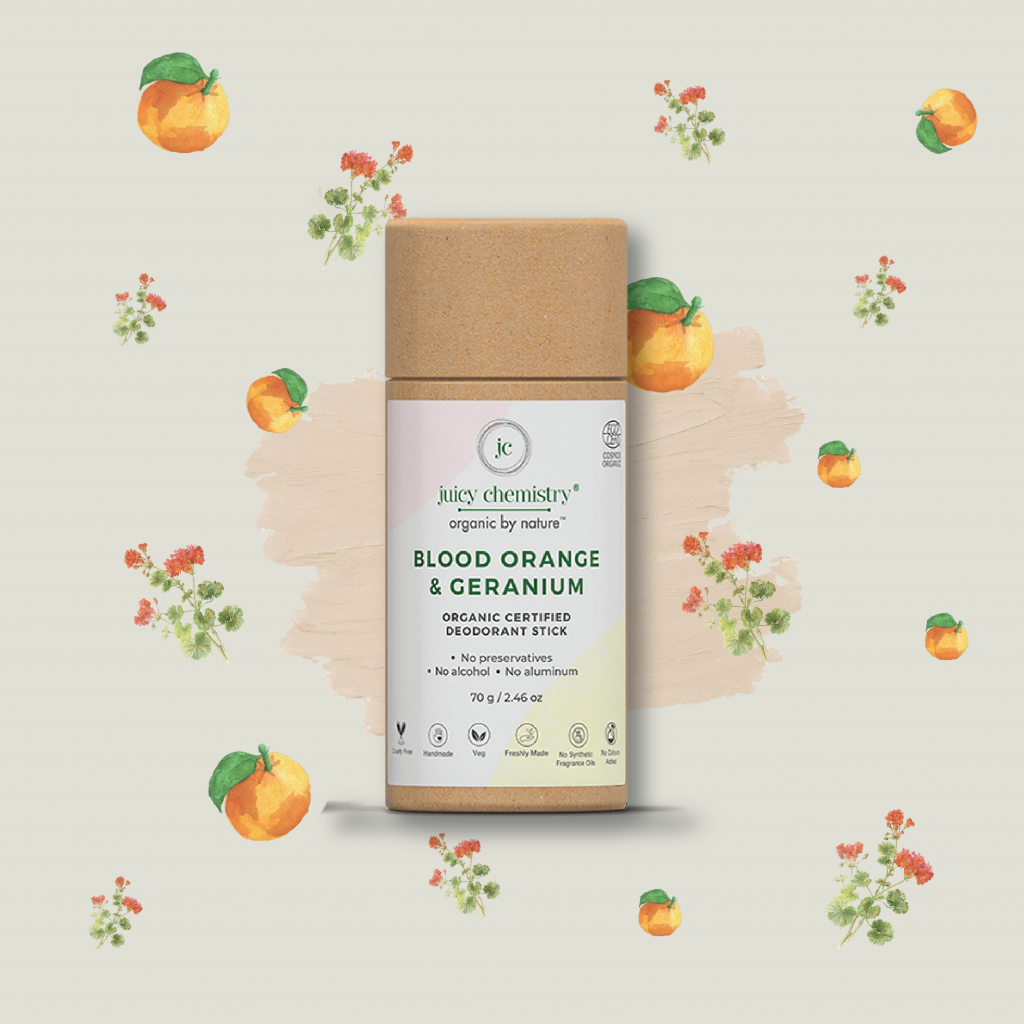 Blood Orange and Geranium Deodorant
Damask Rose, Sea Buckthorn & Jasmine Deodorant Stick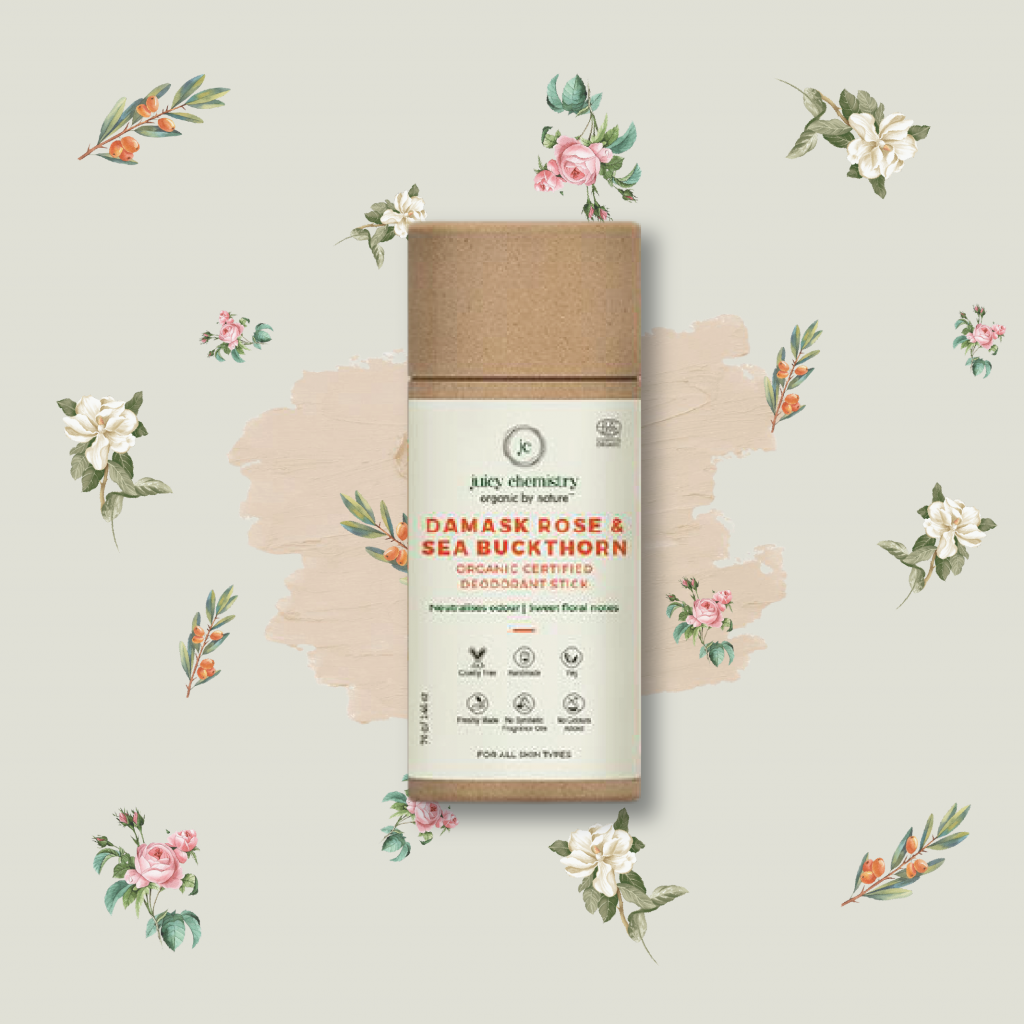 Damask Rose, Sea Buckthorn & Jasmine Deodorant
By now, I was well assured that Juicy Chemistry's thoughtful organic compositions in the deodorants stick range for men are nothing less than impressive. I realized that moisturizing butter, deep cleansing natural clays, and essential oils are all needed in the composition of these deodorant sticks. It is precisely because of its presence that the neutralizing of odors is so effectively carried out for all those men who are struggling with body odor. Every deodorant stick from Juicy Chemistry has one ingredient that integrates the fresh and sweet-smelling fragrance in the composition. In this case- it was the damask rose that had a soothing floral scent, whereas the Sea Buckthorn and Jasmine components help in smooth texture.
I was glad Woovly had all three Juicy Chemistry's Deodorant stick for men on their official website as I could avail myself of some exciting offers too! It is a relief to find these products at such discounted rates as I explore which would be the perfect one for my father!